Smart Puppy Plan®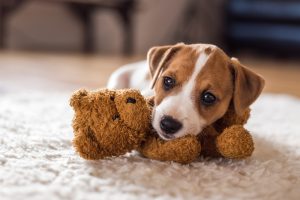 Never return Home again during lunch for Puppy Care! Our Smart Puppy Plan® is designed for our busy Pet Parents with long hours away from home that may challenge training your Puppy's bladder. Customize your needs with our Dog Walk Manager.  Review  a variety of words (tonal range) and routine you choose for your pup. Each visit is 45 minutes  with a two (2) part approach for your pet.
Your Pet Nanny arrives to your home at the designated time within a 15 minute arrival window. First (1), we go directly outside for exercise and elimination. Inside a meal is served followed by non-aggressive Play Therapy with no "tug of war". Our Pet Play Nanny® is on the floor for play with your pup.
Finally (2), we  go outside again for elimination, then treat and crate up. We text pictures of our Loving results.   Output and  Play Therapy are recorded with  " Daily Diary" notes left on the counter.
We offer up to 2 visits per day, from 1-2 weeks up to 3 months as needed. We graduate your puppy from our Smart Puppy Plan® with successful results. Choose our discounted rate for a 30 minute visit as you choose or  from day one! We  invoice (retro) monthly and accept On-line credit card payments.
Reserve our Smart Puppy Plan® today for weekly or monthly needs! You may text your  Pet Nanny  (visiting 5x per week), to add or subtract same day needs! We regret we cannot confirm strictly "as needed" services for super young (8wk -12wk) pups due to our wait list for our Smart Puppy Plan®. Realizing our exact service window for arrival and employing new lessons/goals you direct, is our top priority.
It is Company Policy that our Pet Play Nanny® provide no more than one (1)  Smart Puppy Plan®  on their service route weekly. Gratuities for your Pet Play Nanny® are greatly appreciated!